THE HYGIENE SPECIALIST FOR HOSPITALS, REHABILITATION CENTRES AND RESIDENTIAL CARE HOMES
As a strategic hygiene partner to the healthcare sector, we know the challenges our clients face and make important contributions to ensuring maximum hygiene. Professional hospital and clinic cleaning services belong in the hands of specialists and are moving increasingly to the centre of public focus.
Our hygiene experts support you in avoiding the risk of infection at your facility so that you can be a preferred healthcare provider. Our state-certified disinfection specialists make sure that bacteria, viruses, fungi, parasites, prions and other harmful pathogens have no chance. The Klüh Clinic Service portfolio covers the cleaning and disinfection of surfaces, hygienic bed preparation and the sterilisation of medical products. The equipment used meets the highest standards of hygiene.
Efficiency and transparency
WE SUPPORT YOU WITH A RANGE OF NETWORKED SERVICES
Our services for the healthcare sector support your employees such as nursing staff, enabling them to focus on their core activities. More than 20,500 employees work for Klüh Clinic Service in all the countries in which Klüh is active.
You benefit from our support for your process, planning and budget reliability, at the same time enjoying a high level of service and fast decision-making. At the same time, you can improve the satisfaction of patients and residents because a clean and hygienic environment contributes to their recovery and well-being.
We put a lot of effort into sharing our hygiene expertise with our clients and have published a hygiene handbook. In 2020, this important industry resource was expanded to include a chapter on major infectious diseases including COVID-19. All Klüh Clinic Service employees undergo regular training at the company's own academy to update their knowledge of hygiene standards.
1

/

5
PROFESSIONAL HYGIENE
There has been an increase in resistant microorganisms which represents a growing problem when it comes to hygiene in clinics, hospitals, rehabilitation centres and facilities for the elderly. Klüh Clinic Service is a preferred strategic hygiene partner to the healthcare sector. We can help ensure maximum hygiene in your facility and perform hygiene management on your behalf.
Hygiene must not be allowed to fall victim to the day-to-day stress in hospital and care home environments or to a lack of qualified personnel. Cleaning and disinfecting surfaces, hygienic bed preparation and the sterilisation of medical products should not be among the core activities of nursing staff but the responsibility of cleaning specialists.
Klüh Clinic Service employees perform disinfection and cleaning operations, making an important contribution in the battle against hospital pathogens. They undergo regular training at the company's own academy to update their knowledge of hygiene standards and form a strong team together with our state-certified disinfection specialists. We also put a lot of effort into sharing our knowledge of hygiene with the facilities we support.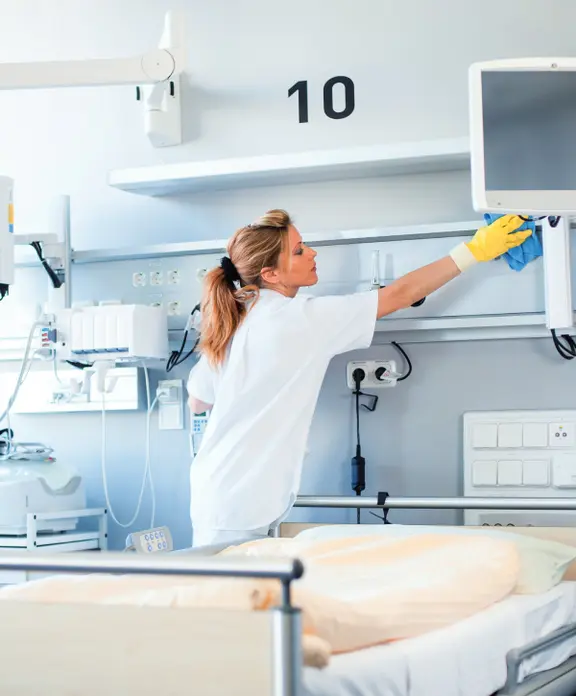 INNOVATIVE CLEANING
The necessary data are provided by Klüh's proprietary DigiClean® app in conjunction with DigiService. DigiClean® maps and optimises the entire cleaning process. The app was equipped with the intelligent Bluetooth Beacon add-on which simplifies monitoring of the cleaning process. It is also possible to set an alarm function to show supervisors if cleaning services are not being performed.
To enable them to work with the DigiClean® app, Klüh's teams are equipped with tablet computers. The proprietary tool uses an optical template without language barriers to communicate what needs to be cleaned with which priority and in which sequence. The aim is to use ergonomic working practices and reduce travel times.
DigiClean® can be used either digitally or paper-based. It complies with the requirements of DIN EN 13549 for cleaning services, which specifies basic requirements and recommendations for quality measurement systems.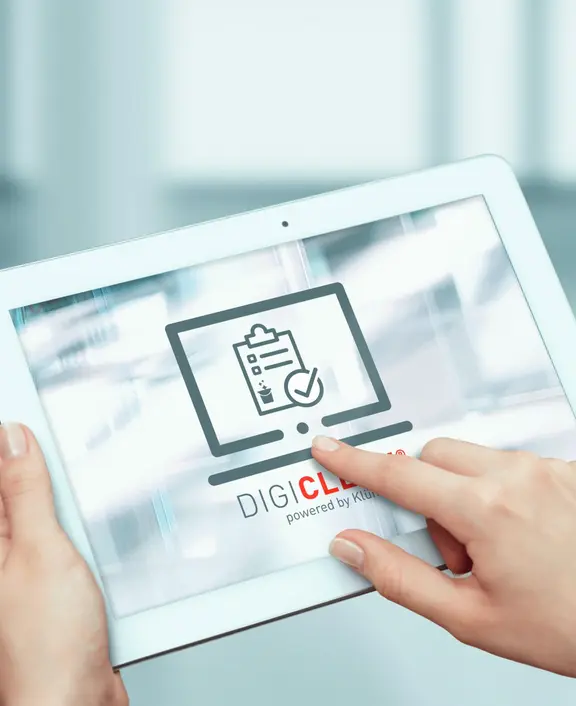 CLEANING ON DEMAND
Cleaning on demand means that our cleaning services are called off on the basis of actual need. With the support of our DigiService and DigiClean® tools, we communicate directly and transparently with our clients. Reactive cleaning staff are on call to provide daytime cleaning on demand in the relevant areas.
The DigiService communications platform with help desk function has an interface to the DigiClean® quality measurement system. This provides real-time information about unused areas so that building cleaning services can be performed where they are really needed. In this way, we can respond even more individually to our clients' requirements.
As a result, we can deliver more individualised responses to the requirements of hospitals, clinics, rehabilitation centres and facilities for the elderly. The time saved can be invested in implementing hygiene measures and performing special services.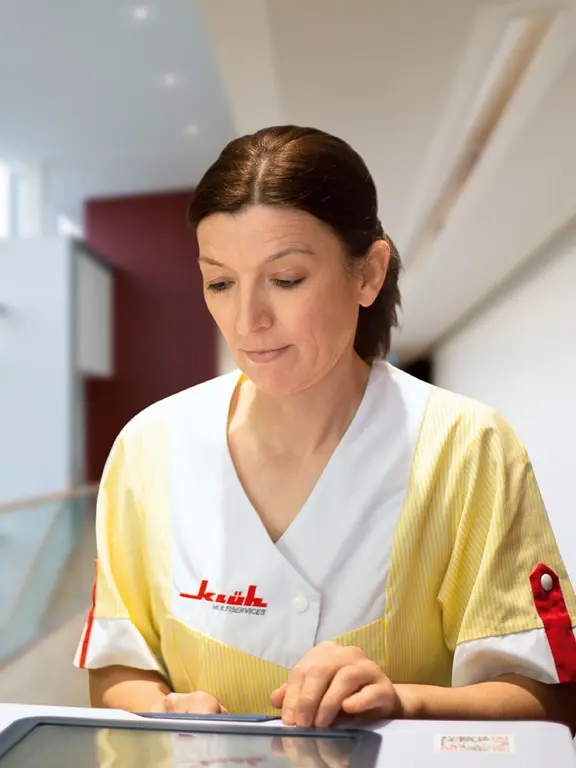 SUSTAINABLE CLEANING
There is a growing focus on sustainability in healthcare and the green hospital approach. Klüh Clinic Service aims to support you in achieving your sustainability targets.
By working efficiently and in a way that is appropriate to the actual task or by preventing infections and the spread of pathogens. We make responsible use of cleaning agents in our operations, using clear dosing specifications and substituting hazardous substances with less hazardous substances wherever possible.
The chemicals we use deliver optimum cleaning performance with a minimum impact on the environment. Our innovative machines and equipment are set to optimise water consumption, with our eco models working quietly and using less electricity. The special equipment we use for the safe and rapid disinfection of entire rooms works with ozone that it produces itself from the ambient air.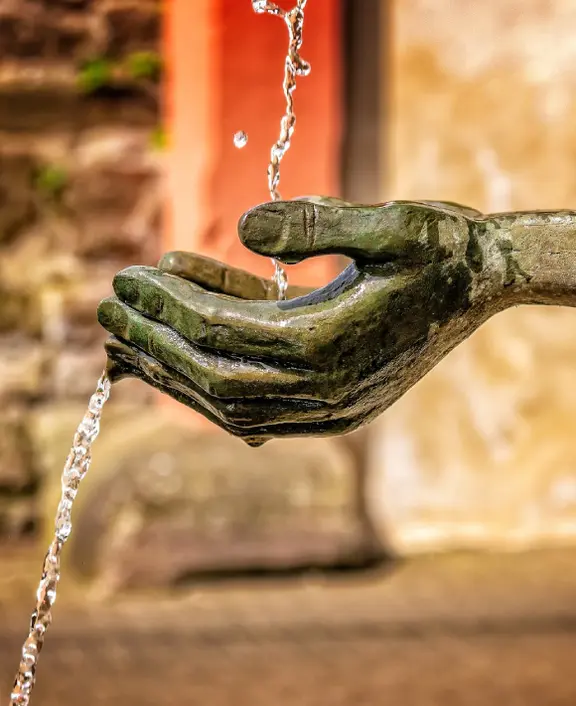 Pioneering cleaning technologies
Klüh IT works closely with Klüh Clinic Service's experts to deploy pioneering cleaning technologies. This includes combining augmented reality with the use of data glasses that provide the cleaning operative with a visual display of the work to be performed. The glasses also specify the locations and sequence of the cleaning processes.
In addition, the cleaning materials, process steps and other useful information are projected in the display. The glasses can communicate with cleaning equipment and materials that are equipped with sensors.
Klüh also uses cleaning robots which have the advantage that they can cover large surfaces in a very short time and clean very efficiently.
At present, robots are only used to clean floors. Further development work is needed to enable their deployment to clean other surfaces.