YOUR BUILDING CLEANING SPECIALIST SINCE 1911
As an innovative provider of high-quality cleaning services, Klüh Cleaning designs individual solutions for clients. Using sustainable, state-of-the-art cleaning technologies and methods, we ensure hygienic cleanliness and a sense of well-being. Our cleaning concepts contribute to preserving the value of residential and commercial property throughout Germany.
Customised building cleaning services from Klüh Cleaning draw on the accumulated expertise of a hygiene specialist. The quality of our work is ensured with great success by our innovative DigiClean® tool.
Klüh's cleaning services are keeping pace with change and we offer concepts for the evolving work environment. These include cleaning on demand and daytime cleaning, enabling our cleaning teams to respond flexibly to your needs. Our service delivery may be result-oriented, daily or at intervals. The employees in our building cleaning teams are supported by state-of-the-art technology, innovative cleaning agents, training, cobotics and digital tools such as DigiClean®.
Maintenance cleaning, glass and facade cleaning, industrial cleaning, thorough and special cleaning – the services provided by Klüh Cleaning are characterised by a high quality level and very fair prices. At the same time, our many long-standing client relationships demonstrate the importance of partnership and trust-based cooperation in building cleaning.
The DigiService customer service portal allows Klüh to communicate structured information quickly. The digital platform facilitates a transparent dialogue between Klüh and its clients.
You're a chain operator and need a building cleaning specialist?
With nine branches in Germany and a number of regional offices, we have built the optimal structure to serve chain operators throughout the country. A key account manager serves as your single point of contact. Invoicing, documentation, problem tracking and reporting are performed centrally. Klüh Cleaning is already the partner to major clients with a large number of branches including banks, bookshops, DIY stores and food retailers.
Our service offering for you
KLÜH CLEANING SERVICE PORTFOLIO
With services including maintenance cleaning, glass and facade cleaning, industrial cleaning, thorough and special cleaning and the maintenance of outdoor installations, we can contribute to preserving the value of your residential and commercial property and ensuring your employees' well-being.
1

/

6
PIONEERING BUILDING CLEANING TECHNOLOGIES
We are already using innovations which are still in the future for many others.
They include processes for hygienic cleanliness, the use of state-of-the-art cleaning machines and technologies including robotics, cleaning with augmented reality, the use of innovative and sustainable cleaning agents and digital support from Klüh's proprietary DigiClean® tool to optimise processes and ensure quality.
Through the use of software and technology, Klüh Cleaning has increasingly evolved to become a knowledge-based partner. Artificial intelligence and the related software enable us to evaluate the data generated by sensors and then act accordingly. By analysing building use, cleaning on demand can be performed on the basis of actual need.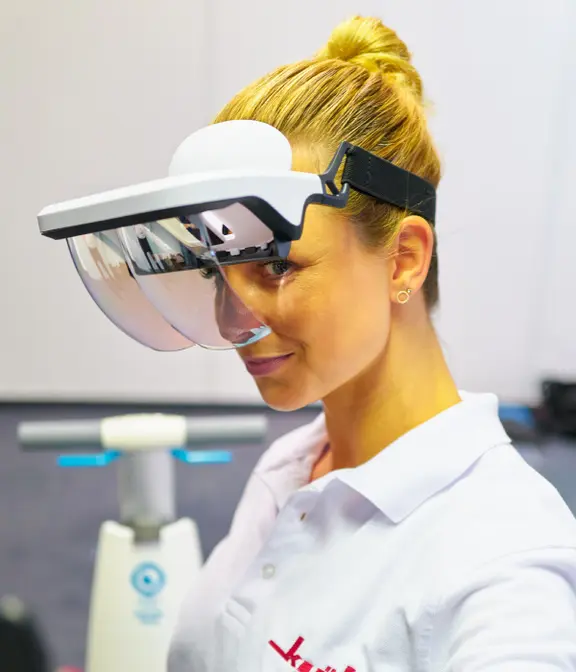 INNOVATIVE BUILDING CLEANING
The necessary data are provided by Klüh's proprietary DigiClean® app in conjunction with DigiService. DigiClean® maps and optimises the entire cleaning process. The app was equipped with the intelligent Bluetooth Beacon add-on which simplifies monitoring of the cleaning process. It is also possible to set an alarm function to show supervisors if cleaning services are not being performed.
To enable them to work with the DigiClean® app, Klüh's teams are equipped with tablet computers. The proprietary tool uses an optical template without language barriers to communicate what needs to be cleaned with which priority and in which sequence. The aim is to use ergonomic working practices and reduce travel times.
DigiClean® can be used either digitally or paper-based. It complies with the requirements of DIN EN 13549 for cleaning services, which specifies basic requirements and recommendations for quality measurement systems.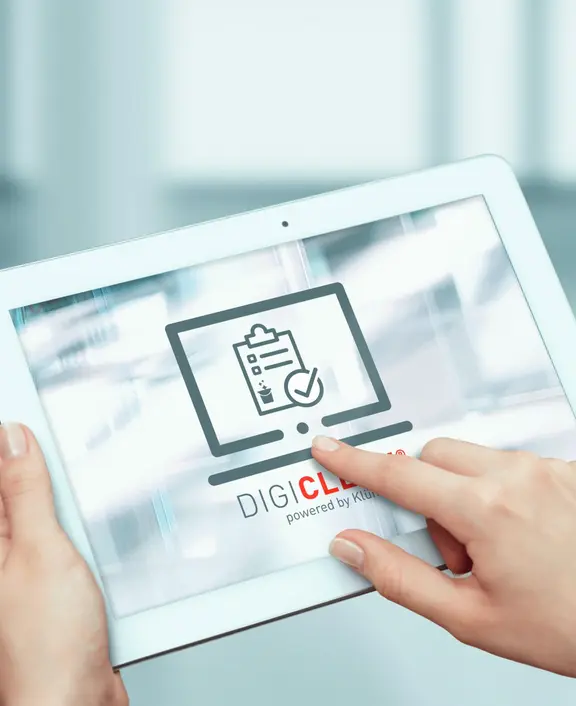 SUSTAINABLE BUILDING CLEANING
Klüh Cleaning has the ambition of meeting its clients' requirements in terms of cleaning performance while at the same time ensuring a responsible approach to the environment and valuable resources. According to an international study, around one third of all CO2 emissions and some 40% of raw material and energy consumption are attributable to buildings. We aim to support you in achieving sustainable facility management.
Together with our suppliers, we are constantly working to develop resource-friendly processes and systems that are quantified, documented and transparent. Our cleaning concepts help to reduce emissions. For greater sustainability, Klüh Cleaning is certified to DIN EN ISO 9001, DIN EN ISO 14001, DIN EN ISO 50001, OHSAS 18001 and SCC regulations.
We make responsible use of cleaning agents. Wherever possible, we substitute hazardous substances with less hazardous substances. We use cleaning agents which are highly effective but kind to the environment, health and materials. In addition, our employees work with clear dosing specifications.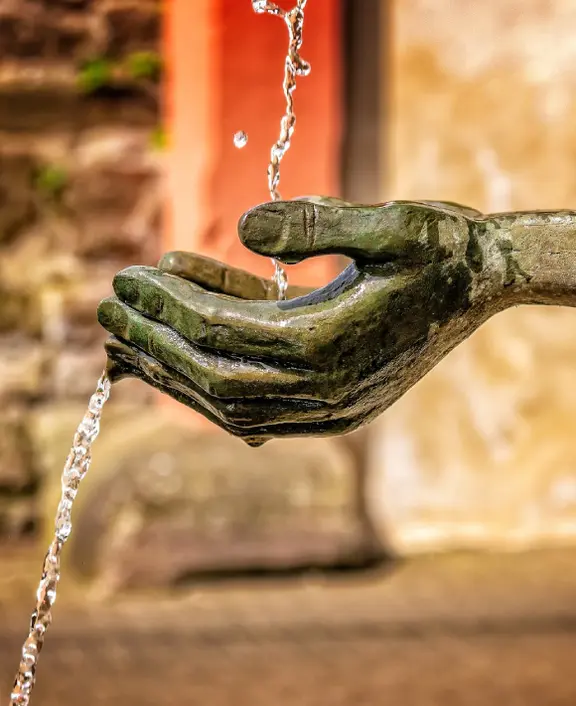 OSMOSIS PROCESS AND ENERGY-EFFICIENCY
We use a special osmosis process for cleaning glass. This is an innovative water treatment technology. The water is demineralised in a filter so that it can bind dirt particles without the addition of chemical cleaning agents. Due to the fact that no tensides are used, the glass subsequently attracts much less dirt.
Klüh Cleaning also uses energy-efficient machines and equipment, preferably Kärcher products with the eco!efficiency label. They are energy-efficient, quiet and recyclable and deliver measurable time savings.
Mop covers and cleaning cloths are washed and disinfected in Schneidereit washing machines, which are equipped with a special weighing system. The machine determines the weight of the wash load and adjusts the amount of detergent and cleaning agent used accordingly.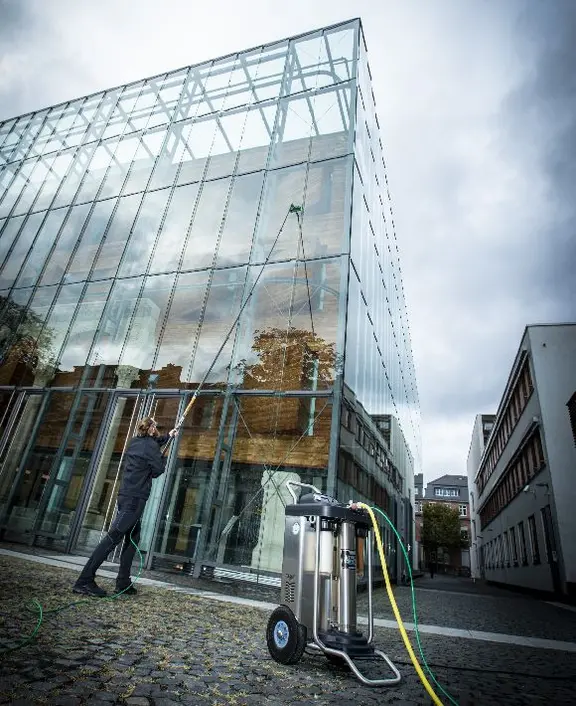 HYGIENE – A LIFESAVING MEGATREND
The emergence of the SARS-CoV-2 virus has made hygiene extremely important. One of the biggest challenges has been to keep environments hygienically safe. New hygiene standards demand a great deal from building operators. Klüh Cleaning was a market leader in hygiene long before the emergence of COVID-19.
Our experts perform disinfection and cleaning operations, making an important contribution to your employees' hygiene and safety at the workplace and ensuring that you and your customers feel safe in your building.
It's not just during a pandemic that our special disinfection agents work to track down germs and viruses. These cleaners are trained by our state-certified disinfection specialists and perform important disinfection operations that protect against contamination. We use special equipment that works with ozone for the safe and rapid disinfection of entire rooms. In some cases, we also use cold fogging, a process which works with hydrogen peroxide.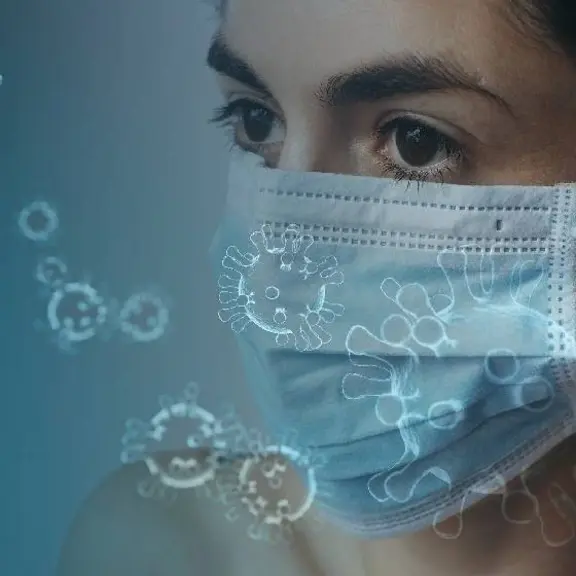 CLEANING ON DEMAND
Cleaning on demand means that our cleaning services are called off on the basis of actual need.
With the support of our DigiService and DigiClean® tools, we communicate directly and transparently with our clients. Reactive cleaning staff are on call to provide daytime cleaning on demand in the relevant areas.
The DigiService communications platform with help desk function has an interface to the DigiClean® quality measurement system. This provides real-time information about unused areas so that building cleaning services can be performed where they are really needed. In this way, we can respond even more individually to our clients' requirements.
The time saved can be invested in implementing hygiene measures and performing special services. This ensures a hygienically safe and attractive working environment and increased quality and satisfaction.