Klüh Multiservices
WE ARE DRIVING SUSTAINABLE CHANGE
We are a family-owned company which can look back proudly on over 111 years of success in the service of people and in sustainably preserving the value of their environment.
We take our corporate responsibility seriously and go beyond what is required by law in contributing to sustainable development.
We have defined our own goals, especially in the areas of social, ecological and economic sustainability, thus setting high standards for our company and our activities across the value chain. A dedicated department ensures that we follow a structured sustainability path which, coupled with our company-wide sustainability management system encompassing guidelines, sustainable management and specific targets and measures, results in the implementation of our sustainability strategy. This is based on four pillars reflectingour responsibility to our employees, the environment, society and the market.

In January 2023, we became a participant in the UN Global Compact, a worldwide network of more than 21,000 companies and public sector, government and academic organisations. On the basis of its Ten Principles and Sustainable Development Goals, the network aims to enhance the social and environmental compatibility of globalisation, thereby ensuring a more inclusive and sustainable future.
We are a signatory to Germany's corporate Diversity Charter and maintain an organisational culture that is characterised by mutual respect and esteem for every individual. Our employees come from 122 nations and have different skin colours, ethnic backgrounds, cultures and religions. Integration is therefore a part of the corporate culture we practice. We will not tolerate discrimination against our employees. Diversity is one of the key factors in our success. Different cultures, genders and ages coupled with individual experiences enable us to provide our services to many sectors worldwide. We are also committed to ensuring compliance with these values and fundamental ILO (International Labour Organization) employment rights throughout our supply chain.
We aim to give our employees a great deal in return for their commitment. In response to their different needs and aptitudes, we operate our own certified Klüh Academy offering a wide range of training options. With our proprietary DigiLearn tool, we can deliver e-learning courses to a virtually unlimited number of employees. The Klüh Security School prepares our employees for their demanding tasks in the security industry.
We assume responsibility for the health and safety of our employees, operating extensive management systems that are subject to regular internal and external audits and offering occupational health seminars via the Klüh Academy. We also offer benefits such as the Klüh company pension and the Klüh PlusCard, a top-up health insurance for employees.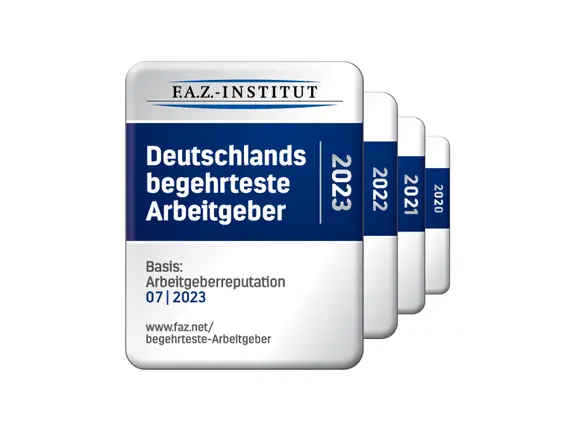 Given the growing shortage of specialists and skilled employees, the study "Germany's most sought-after employers" analyzes data collected in a social listening and an online survey every year, which address various topics such as job security, salary structure, development and training opportunities and additional benefits. Klüh Multiservices was once again award in the category infrastructural services, which makes it the fourth time in a row. Therefore Klüh is one of the most desirable employers in the German facility management industry!
One of our operating principles is the ongoing development of our sparing and ecofriendly utilisation of resources so as to minimise the environmental impact of our services. We make careful and optimal use of raw materials and energy sources so that our work processes have a minimal effect on the environment and our activities do not harm our surroundings. A great deal can be achieved with a large number of small improvements. We are reducing our energy consumption and carbon emissions and improving our water footprint. In this way, we support our clients in achieving their own sustainability targets.
The sustainability measures in our Cleaning Division include:
The use of water-saving i-Mops
Cleaning agents that are at least 99.8% biodegradable
Strict dosing specifications
The use of low-noise equipment wherever possible
The use of the osmosis process for glass cleaning
The use of Ecolution cleaning agents, cutting packaging waste by 98%
Leasing cleaning machines so we are always using the most state-of-the-art and sustainable equipment
For many years, our Catering Division has been a partner in the United Against Waste initiative, making sustainable contributions to food management. We use artificial intelligence (AI) to fully automate the recording, documentation and analysis of food waste. AI supports the kitchen team with tips on how to achieve its waste targets. In order to reduce packaging waste, we have introduced a deposit system based on reusable containers which significantly exceed the climate balance of disposable tableware after just eight uses.
Animal welfare is another aspect of our sustainability strategy. That is why we support the Albert Schweitzer Foundation's European Chicken Commitment, successfully advocating better husbandry conditions for the birds (current progress report here). Our 'I love green' menu range is our meat-free option based primarily on fresh and unprocessed regional ingredients.
We have a strong reputation for social commitment spanning many decades. Each year, the Klüh Foundation provides funding for research and science, sponsoring sustainability projects and people like the Arctic Ocean and climate researcher whose work has made a very relevant contribution to understanding climate change.
As an expression of his own sense of responsibility, Josef Klüh established a private initiative named 'Wir für Düsseldorf', which aims to help maintain the quality of life and address social issues in the region.
Josef Klüh has always demonstrated a strong commitment to his home city of Düsseldorf. As a sponsor of sports, the arts, culture and socially disadvantaged people, he is very aware that the company is not only part of a market but also a member of society.
Every day, each of our employees uses their skills to make an important contribution to our stakeholders' satisfaction and growth and to safeguarding the future viability of our company. Thanks to our innovations, which are mostly developed by our Center of Digital Excellence, we seek to address the key future issues of sustainability and digitalisation in the market.
We deliver outstanding support based on our decades of expertise, providing the market with reliable high-quality services that represent good value for money. Our sustainable infrastructure ensures our proximity to our clients, creating the optimal conditions for developing customer loyalty which we are seeking to strengthen in the future.
We aim to safeguard our long-term economic success through growth and the further expansion of our market position. We are proud of our long-standing role as one of the region's major businesses, making a significant contribution to creating and preserving jobs.

Annual Report 2022
Shaping change with change management: Follow us on our sustainability path!